Hot on the heels of Update 3, Update 4 for Vision is ready for launch. This update brings an exciting expansion to the Account Management (previously System Administration) area as well as some tweaks to existing areas.
When will Update 4 arrive?
Update 4 for Vision will be released on Monday 19th June 2017 at 9 PM GMT. The system will be down for up to one hour whilst we update our platform and environment.
What's changing?
Expansion of the Account Management area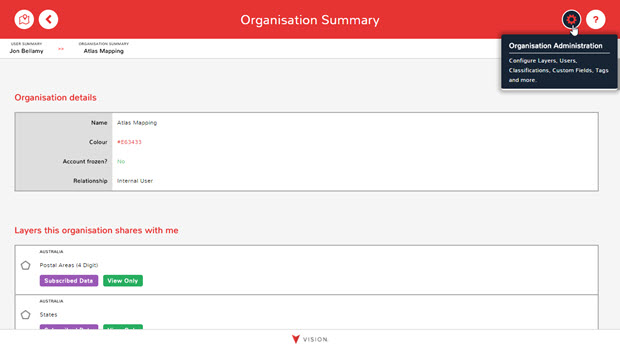 From the release of Update 4, organisation administrators will be able to see:
Organisation details
Layers included in their subscription
Layers the organisation owns
Classifications
Users
Demographics
Custom Fields
Tags
Additionally, they will be able to:
Edit the organisation name and brand colour
Add users, and manage the permissions and access to layers for existing ones
Remove users from the organisation
For all users, we've added information tags when viewing the layers an organisation has shared with you to give you a better idea of what you are viewing and limited to. We've also changed some page section headers to better reflect what they show you.
Internet Explorer is no longer supported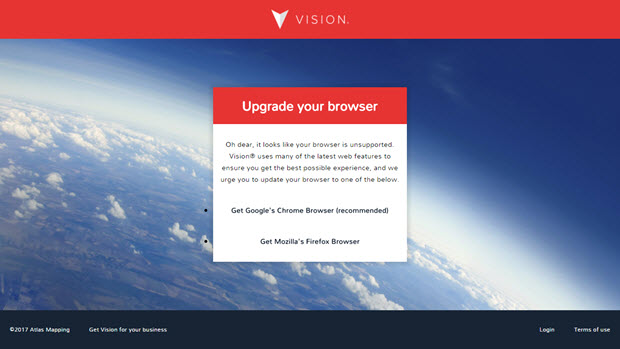 As hard as we've tried to maintain support for this outdated browser, providing the best user experience to all our users has meant we have to drop support for Internet Explorer as it doesn't support many of the technologies we want to use.
From Update 4, you will not be able to access Vision using Internet Explorer and will be prompted to first download Google's Chrome browser (which we really recommend) or Mozilla's Firefox browser; both of which support the latest web technologies and will keep your business safer.
Please note that for now, the Report Viewer will still work in Internet Explorer (with the exception of the screenshot function introduced in Update 3).
Tweaks and bug fixes
We've changed the support icon in the main system toolbar to match the one in System Administration.
We've fixed a bug introduced in Update 3 which prevented the search bar from allowing a search with a comma.
We've fixed a bug where the screenshot functionality would not work after interacting with a search result (either clicking it or pinning it to the map).
Appended a date and time stamp to screenshot filenames.