We're pleased to announce Update 8 for Vision. In terms of the front-end, Users will only see minor changes and improvements from Update 7, but behind the scenes, our development team have been extraordinarily busy making extensive changes that pave the way for Updates 9, 10, and 11 which are planned for 2018.
When will Update 8 arrive?
Update 8 will be released on Monday, 21st May 2018. Vision will be taken offline at 8 PM (GMT), and because of the size of this update, we estimate that all services will be suspended for up to 4 hours while we complete our work. We'll notify all users when services are back online.
What's changing?
Custom Fields
We're making changes to custom fields (previously data fields) that have been set up as a SystemLink type.
SystemLink custom fields were designed to make life easier when importing data and taking advantage of the API. However, they required manual setup by organisation administrators, and our analysis showed that organisations rarely setup more than one SystemLink field.
To simplify the setup process, we're migrating SystemLink fields into a new permanent field held against every record. You'll see this Unique Key field replacing the Code field within the Information Window.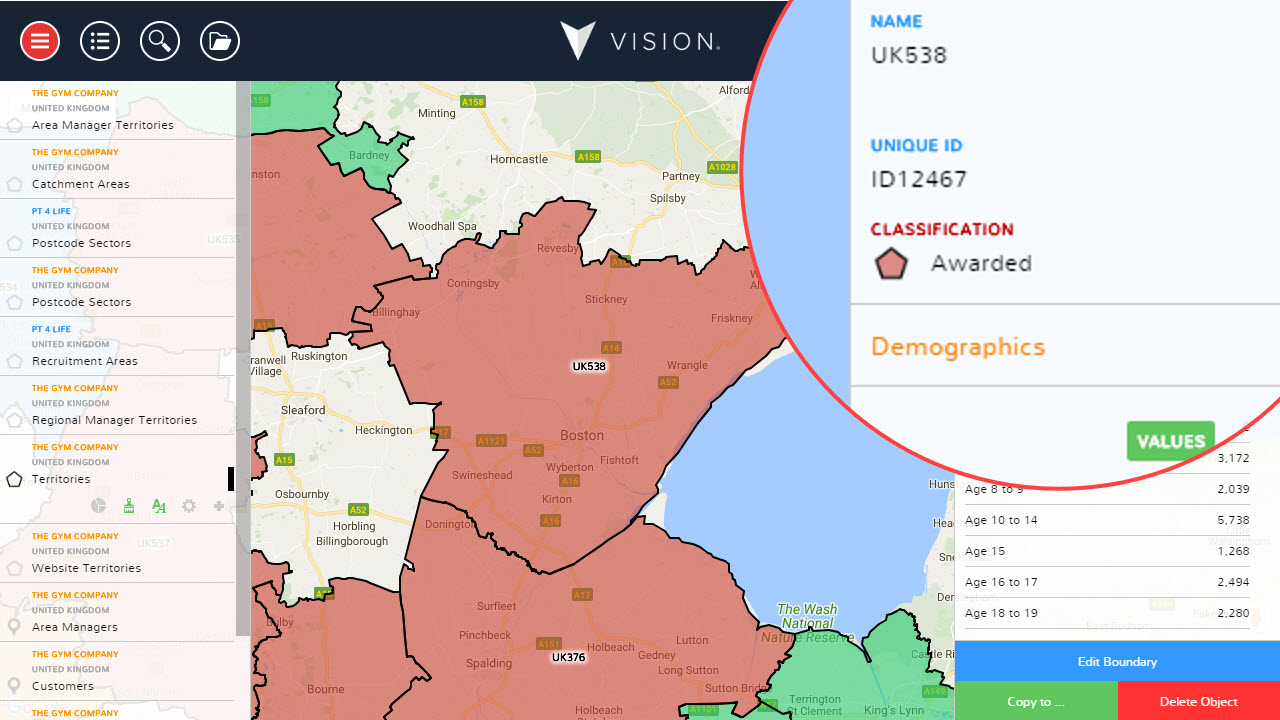 What happens to my existing data?
Any values set against a SystemLink custom field will be migrated into the UniqueKey field during the update. To ensure any existing API integrations continue to work, we have ensured that these values remain synchronised with the old SystemLink field when updated. You will no longer be able to create new SystemLink fields or attach existing SystemLink fields to new layers. In a future update, these will be removed entirely and you will need to update any API integrations.
Please refer to the API Changes section in this article for further information.
Better labels for base areas
Some base areas (like UK Postcode Sectors, or USA 5-digit ZIP codes) have a single unique identifier (such as 'PE7 8' or '90210' respectively). Administrative geography, however, often has both a unique key (such as 'E05000237' which means very little to the user) and a relatable name (such as 'Hackney Central'). To see these, users had to change the label settings for the layer on every new session to include the Name field.
From Update 8, base areas with only a unique key will display just that, and the Name field will no longer be selectable when choosing your label settings. For base areas with both unique keys and names, both will be shown by default when turning on labels.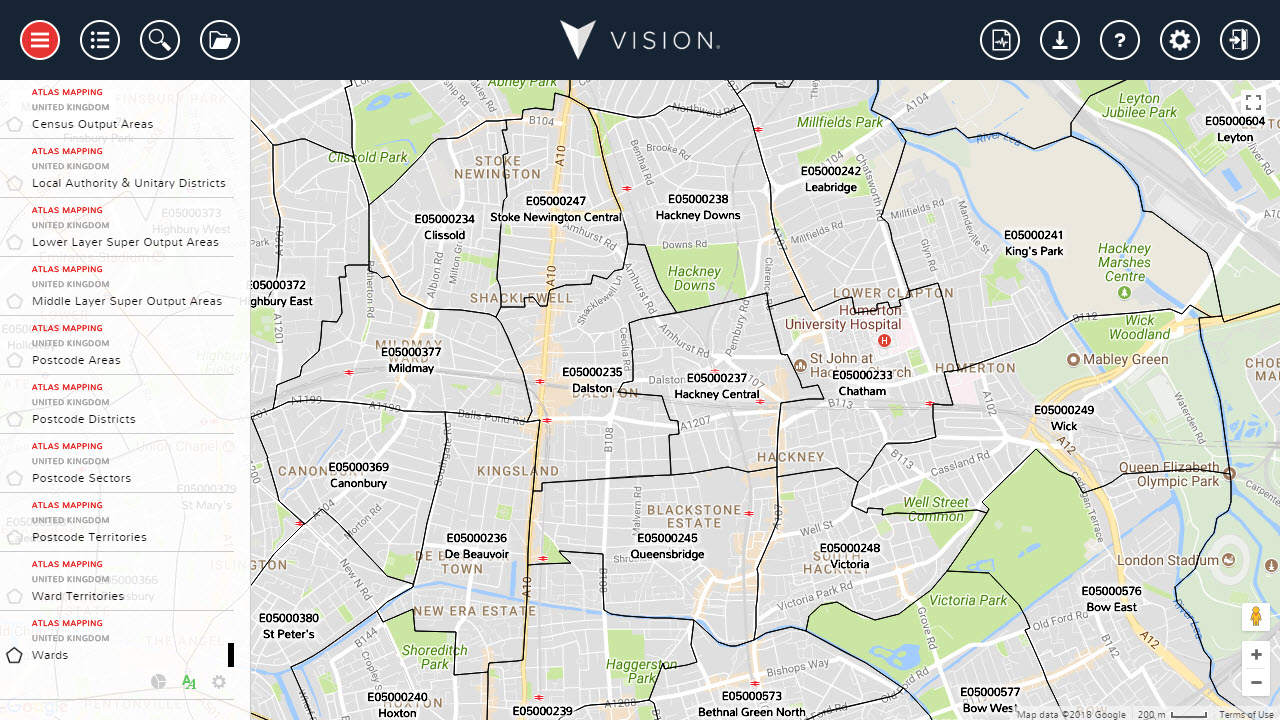 Demographics
Update 8 sees us complete the first of three phases we're going through to improve how demographics work. In Update 8, we've changed how these are stored in the Vision database to improve speed, but more importantly how we calculate the Percentage of Base values to make these figures more accurate.
Prior to Update 8, Percentage of Base values were calculated by linking almost every demographic to another 'base' demographic. As an example, the demographic 'Population aged 0 to 4' would specify the demographic 'Total Population' as it's base. This meant that any given area's 'Population aged 0 to 4' Percentage of Base value was its actual demographic value as a proportion of the 'Total Population' demographic value for the same area. As we've expanded our offering into many more countries, this has caused some Percentage of Base values to be overinflated when the demographic is part of a group that had optional or multiple answers in the census.
In Update 8, each demographic group (such as 'Population Banded by Age', or 'Population by Ethnicity') gets its own 'total' demographic which is automatically calculated by summing all other demographics within the group. We then use this new total demographic to calculate Percentage of Base values which ensure they remain accurate. Most demographic groups are actually unaffected by this.
One side-effect of this update means that a small handful of demographics are no longer compatible with the new storage format. This is because they actually represent a sub-total of other demographics included in the group and would cause other demographics to be counted twice when calculating the values for the new total demographic.
A list of the demographics which will be removed in this update is in the Redundant Demographics section. We do plan for a future update to allow their return, but there is no release date for this at present.
A faster Vision
Speed is always at the front of our minds for Vision. It's the fastest browser-based mapping software out there, but we don't stop with that. With Update 8, we've made countless improvements to improve speed when using the map and system administration.
Better errors
Errors rarely happen in Vision thanks to our extensive testing. But every now and then, one can slip through. We've made sure that when they do, the system responds more gracefully and makes you aware.
Database enhancements
The biggest change by far is the improvements we're making to key tables in the database which store your data and demographic values. We don't undertake changes of this scale lightly, but they were necessary to support coming improvements in Update 9. During this update, we're migrating your data into the new structure, which is the primary cause for the necessary length of downtime.
API changes (including Find Your Nearest)
We've made changes to API and FYN endpoints as a result of changes to how we store SystemLink custom field values. We've ensured that any changes will not prevent current implementations from working, but we'd recommend updating your API integrations as soon as possible as older endpoints will be removed in a future update.
See this section below for a list of all endpoints that are affected. You can view the new endpoint documentation here.
Other changes
We've also made some smaller improvements:
Demographic ordering feels more natural when choosing which to show on a layer.
Fixed a bug where the classification was not being shown when updating the position of a location.
Improved the user account activation process.
Fixed a bug where you could attempt to assign a user to locations in susbcribed layers. The process would fail but this action should not be possible.
Fixed a bug which caused chart titles in the layer summary analysis to appear small.
Fixed a bug where transferring a location from one layer to another did not correctly remove the location from any static filters.
So what's happening in Update 9?
We're extremely excited about Update 9. Our work on extensive database changes within Update 8 has been part of our work towards an industry-leading solution for updates to area boundaries and demographic values.
Additionally, we'll be starting our work on new, exciting ways to filter and export your data from Vision as well as a few other minor improvements and changes that are planned.
More information to follow soon.
---
Redundant Demographics with Update 8
The following demographics will be removed in Update 8.
| | |
| --- | --- |
| Country | Demographic |
| United Kingdom | White British including nationalities, Irish and gypsy/travellers |
| United Kingdom  | All other White ethnicities |
API endpoints being updated with Update 8
Existing endpoints will continue to work at present, but in a future update, we will be giving notice for these to stop.