Update 9 for Vision brings an extensive collection of new features and improvements to the software as we start to take advantage of the improvements we made in Update 8 to the back-end.
When will Update 9 arrive?
Update 9 will be released on Monday, 30th July 2018. Vision will be taken offline at 8 PM (BST) and should take no longer than 30 minutes. API and FYN downtime will be kept to an absolute minimum but you may experience a period of 2-3 minutes where they appear offline. We'll notify all users when services are back online.
What's changing?
Filtering
Available to all subscriptions with Feature Pack 2 and above.
Our most exciting new feature is filtering which will be accessible for all layers from the layer control. Filtering allows you to create a tabular view of records within a layer, and apply value limits on columns to display only the records you need. You can then apply that filtered view to the map.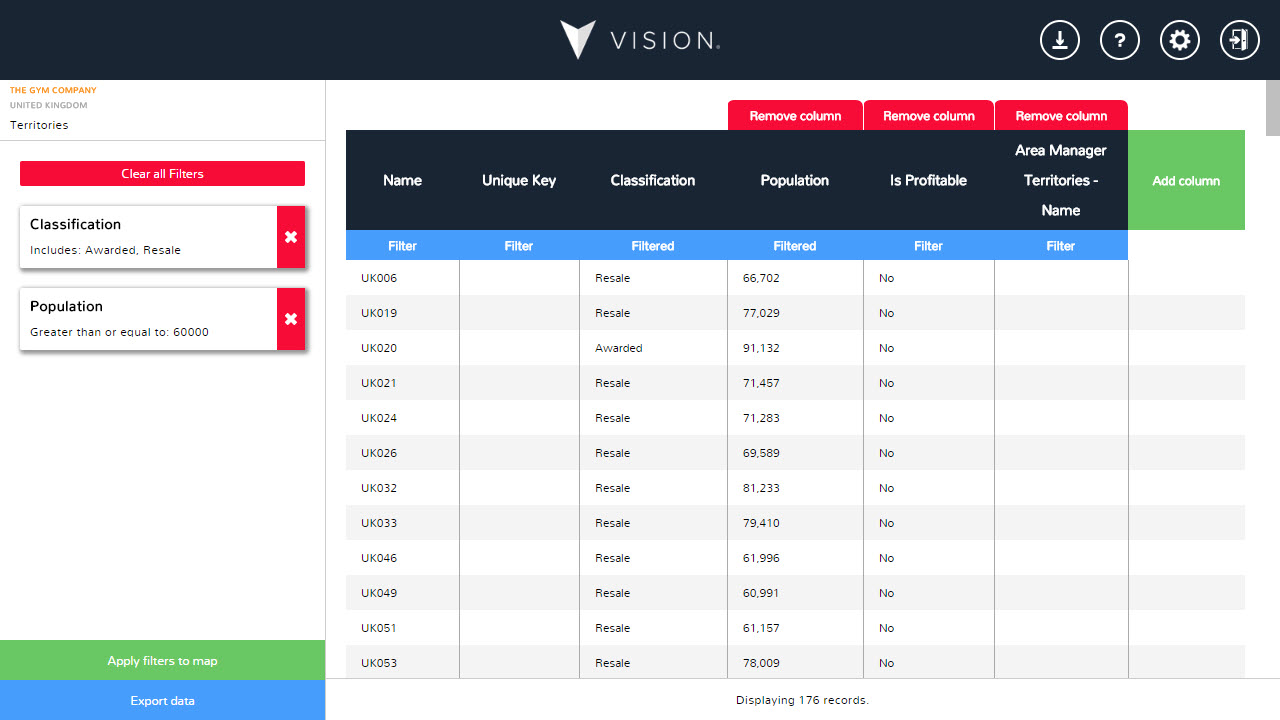 There are different types of filtering rules available based on the data columns you filter on, and you can add any number of columns to your filter as you need. Some usage examples are:
Select only those Postcodes/ZIP codes assigned to X Territory.
Select only territories with greater than X population (or any other demographic you have).
Select only those areas with X and Y classifications, assigned to Z regional manager, and with a turnover under $300,000.
Select only those locations with X classification and more than Y customers with a postcode beginning with PE.
There are thousands of combinations and more information on filtering is available here.
The new filtering module replaces the basic filtering we allowed on classifications from the legend.
Exporting
Available to all subscriptions.
Directly from the new filtering module, we've also added the ability to export the data in CSV format.
From any layer you have access to, you'll be able to export either a filtered subset of the data, or the entire layer with all of its data. On your own layers, you'll get much more choice on the columns you can export.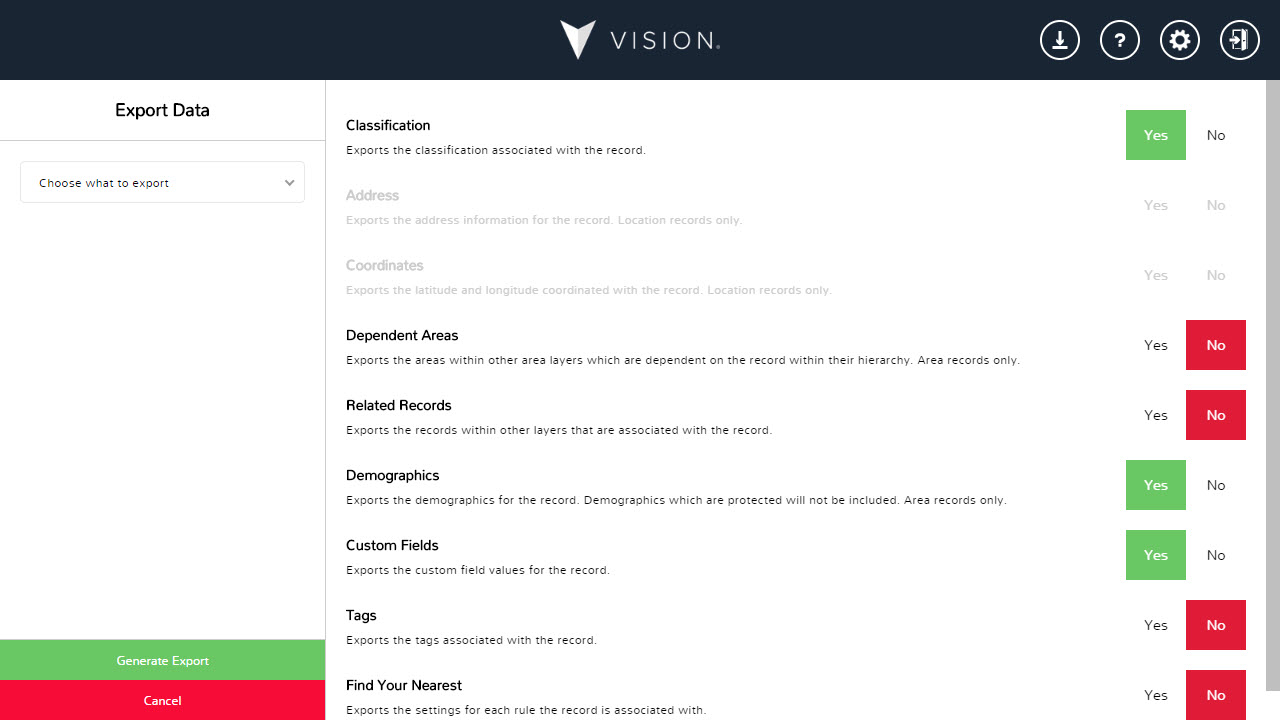 To help protect your data, we've created a new user permission for exporting. As part of releasing Update 9, we'll set all existing Organisation Administrators to have the permission by default; all other users will need the permission adding to their access.
While users on Feature Pack 1 will not be able to export a filtered set of data, they can still produce a full export of their data.
More information on exporting is available here.
A new status bar
We've been aware for some time that certain actions you perform in Vision do not provide a solid visual cue to confirm something has been saved or whether there is a problem.
Update 9 brings you a new status bar with pop-up notifications that let you know when changes are saved (Success), actions cannot be taken (Warning), or an error occurs (Error). The notification appears directly under the Vision logo at the top-centre of the screen and automatically removes itself after a few seconds. Additionally, when more information is appropriate, hovering over the notification will display further details.
A great example of this is when you try to turn off a layer that is required by the Geography Editor while you're still using it.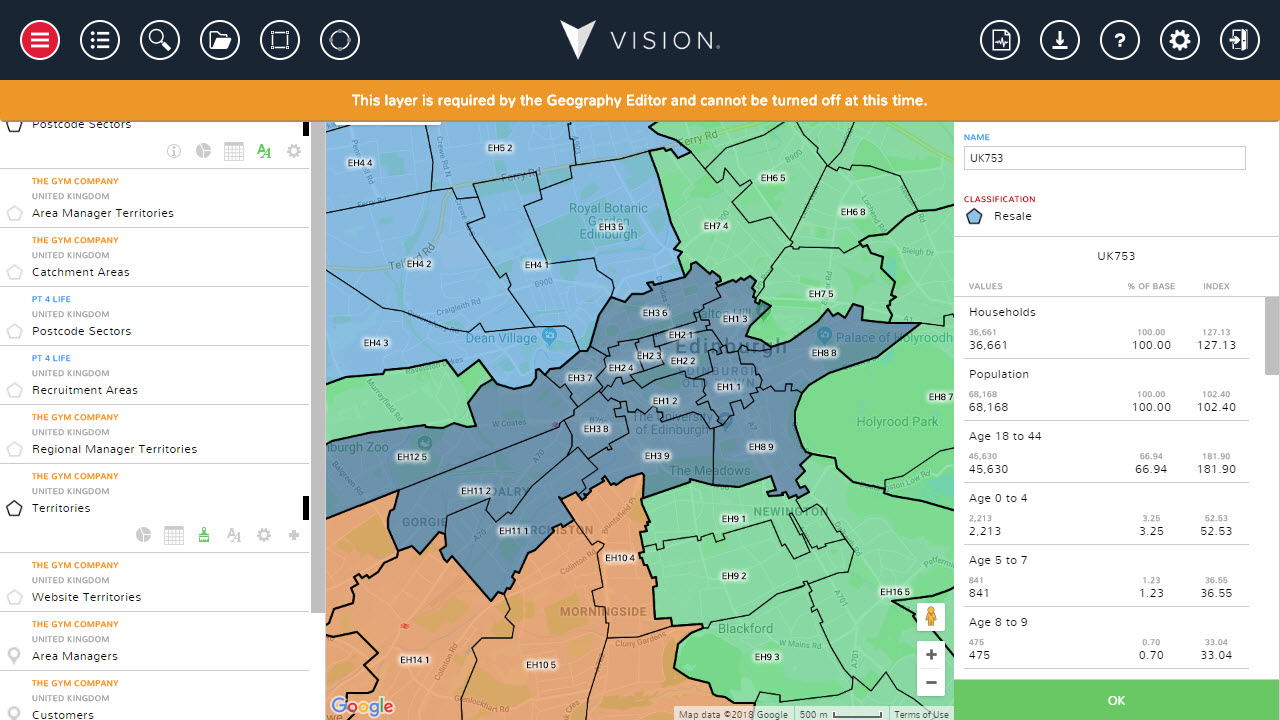 A more-dynamic map with the left and right panes
Update 9 brings an improvement which particularly benefit our users on Apple devices (as well as those using touch-enabled screens).
We loved the current effect given to the left and right pane content when displaying it over the map with minimum transparency, but doing so also made the map-type, zoom, and street-view controls inaccessible.
We've listened to your feedback and made the map dynamically size itself based on whether or not content is being displayed in the left and right panes. Those controls are now available at your fingertips.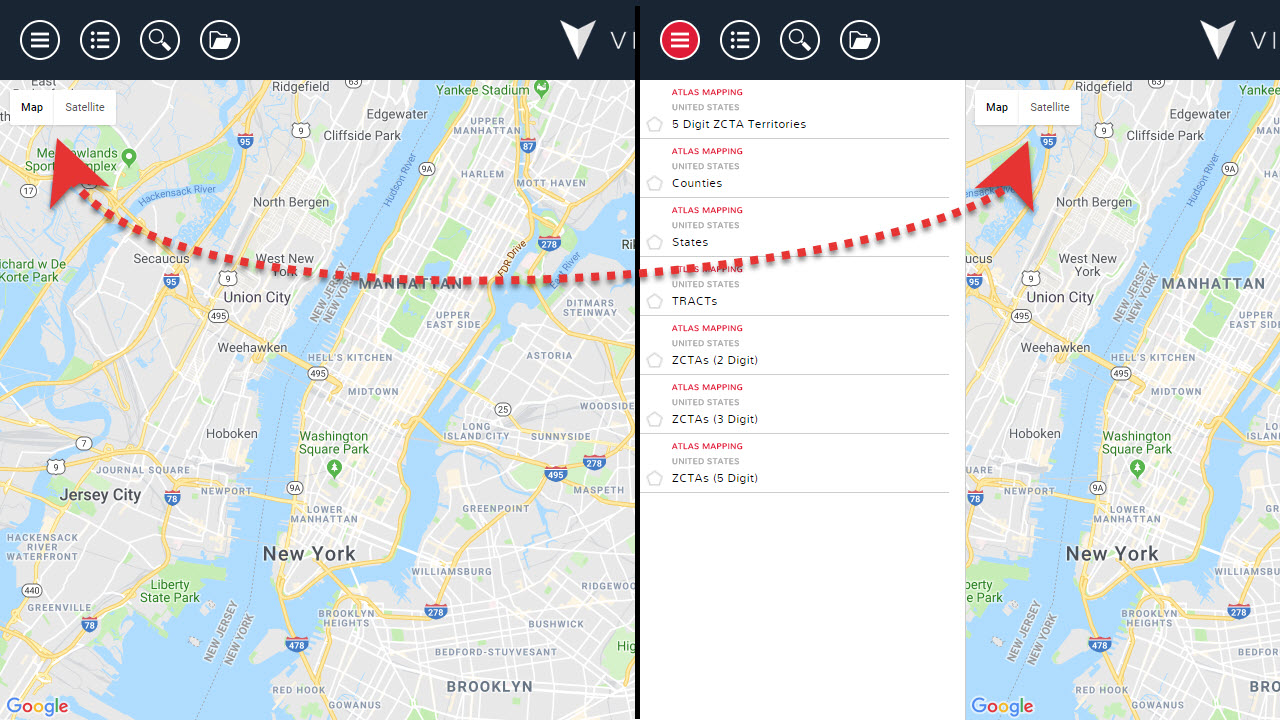 Demographics
Many of our users now subscribe to Vision for multiple countries and as we add more and more countries we were starting to notice that the Demographic Groups started to have similar names - causing identification issues for users within the administration module.
To alleviate this (and reduce the list size on the page) we introduced a third level which was previously hidden from you.
As a result, from Update 9 you will now see the Demographic Sets you subscribe to rather than all of the Demographic Groups within the Demographic Sets on the Organisation Summary page. Clicking one will take you the new Demographic Set Summary page which will list all of the Demographic Groups within that set only. The rest of the hierarchy remains the same.
Demographic Sets will also have a flag beside them to help you visually identify which country they belong to.
Layer Information
We want you to be able to rely on the data you subscribed to and we take pride in sourcing all of the boundaries and demographics that are available in Vision from the best places to enable this.
We thought we could do a better job of promoting those sources, so with Update 9, you'll notice that all your subscribed layers have a new information icon underneath them. Clicking on it will tell you where the data comes from, the last time it was updated, and how many records are in the layer.
Other improvements / fixes
We've also made the following smaller changes:
Layer analysis has now been moved to the left-pane making it quicker to work with.
Our new status bar will let you know that a search has been successful even when there are no results to display (so you know something happened).
We've removed an unused page from the User Administration module (the User Layer Summary page).
We've added the Demographic Set name as a prefix to the Demographic Group name when choosing which demographics to display on a layer (particularly useful when identifying between US Census and US ACS data).
We've fixed a bug introduced in Update 8 which under certain circumstances would cause a territory layer to be loaded multiple times - effectively thickening the transparency of classifications and hiding the map detail underneath.
We've fixed a bug introduced in Update 8 which under certain circumstances allowed you to close the Layer Summary Analysis panel in an incorrect way - which then caused territories to highlight permanently grey when moving over them on the map.
We've fixed a bug which came back in Update 8 which under certain circumstances didn't update a location's icon on the map when changing its classification.
What's planned for Update 10?
We're super-excited about Update 10. As well as a new type of Custom Field to store date values - which will also allow filtering when released - we're going to be introducing drawing custom boundaries, more advanced filtering features, and much, much more.