Since the launch of Vision in 2016, we've collected data on how our users interact with the software, observed how they've responded in training, and analysed support queries with the single goal of identifying common issues/sticking points for frequent and non-frequent users across a broad spectrum of businesses.
In response to this, we've updated the Vision UI for 2019 and beyond with a new faster, clearer, and more-responsive design which improves the user experience while remaining familiar to all users.
Many new features have been added since Vision's launch, and with many more planned for later this year, we've introduced action menus in several places; keeping the most commonly-used functions at the forefront, and others only one click away. The new action menus expose functions through large buttons which are very clear in their function and grouped logically by what they do.
We've also introduced clear headers for all content that opens in the left and right-hand side panes, so you know exactly where you are in the system and reduced the general clutter in the UI.
When will Update 11 arrive?
Update 11 will be released on Monday, 15th April 2019. Vision will be taken offline at 8 PM (BST) and will remain offline for up to 4 hours while we complete the update. We'll notify all users when services are back online.
Changes to the Layer Control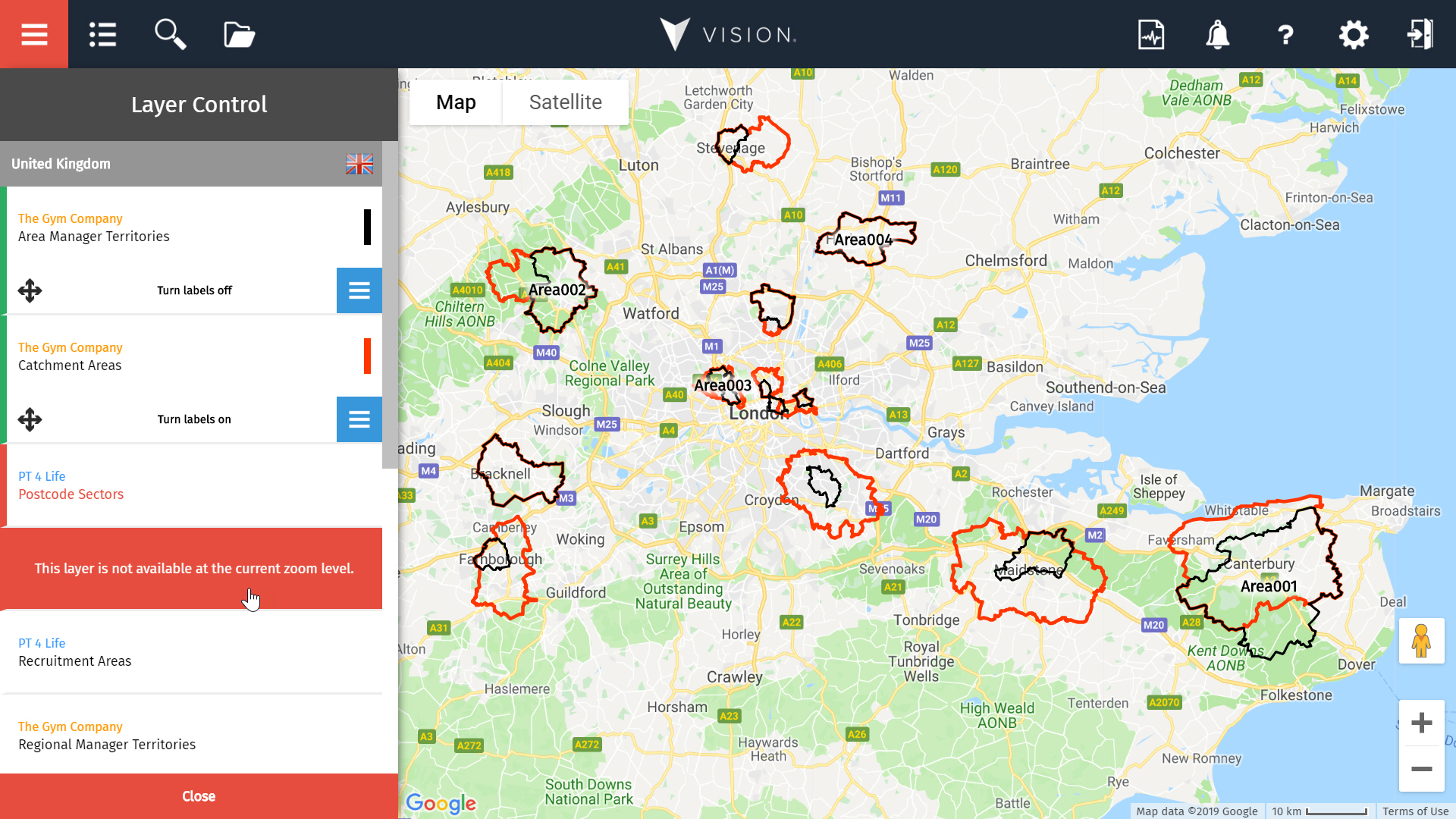 Vision's layer control has always been head-and-shoulders above any other mapping solution, but it was clear that improvements could still be made to make it even more intuitive.
We found that many new and infrequent users struggled with how layers were hidden when the zoom level was too high to display them. With the new design, all layers available to you are shown in the layer control at all zoom levels. Layers that are not available at the current zoom level are clearly displayed as unavailable.
We've now promoted country names from each layer to a new group header in the layer control, with each country having its own layer collection. Combined with the new, dedicated reorder button for each layer, reordering is also much easier for those users with lots of layers in their system.
Turning layer data on/off is the same as before; simply click on the layer header. We've made the clickable area much larger in the new design to make this easier on high-resolution and touch screens.
We also found that many users struggled with turning area labels on/off and have redesigned the button to be clearer in the UI.
All other functions available for a layer are contained within its action menu which is available when the layer is turned on.
We've created a video highlighting the changes which you can view here.
Changes to the Legend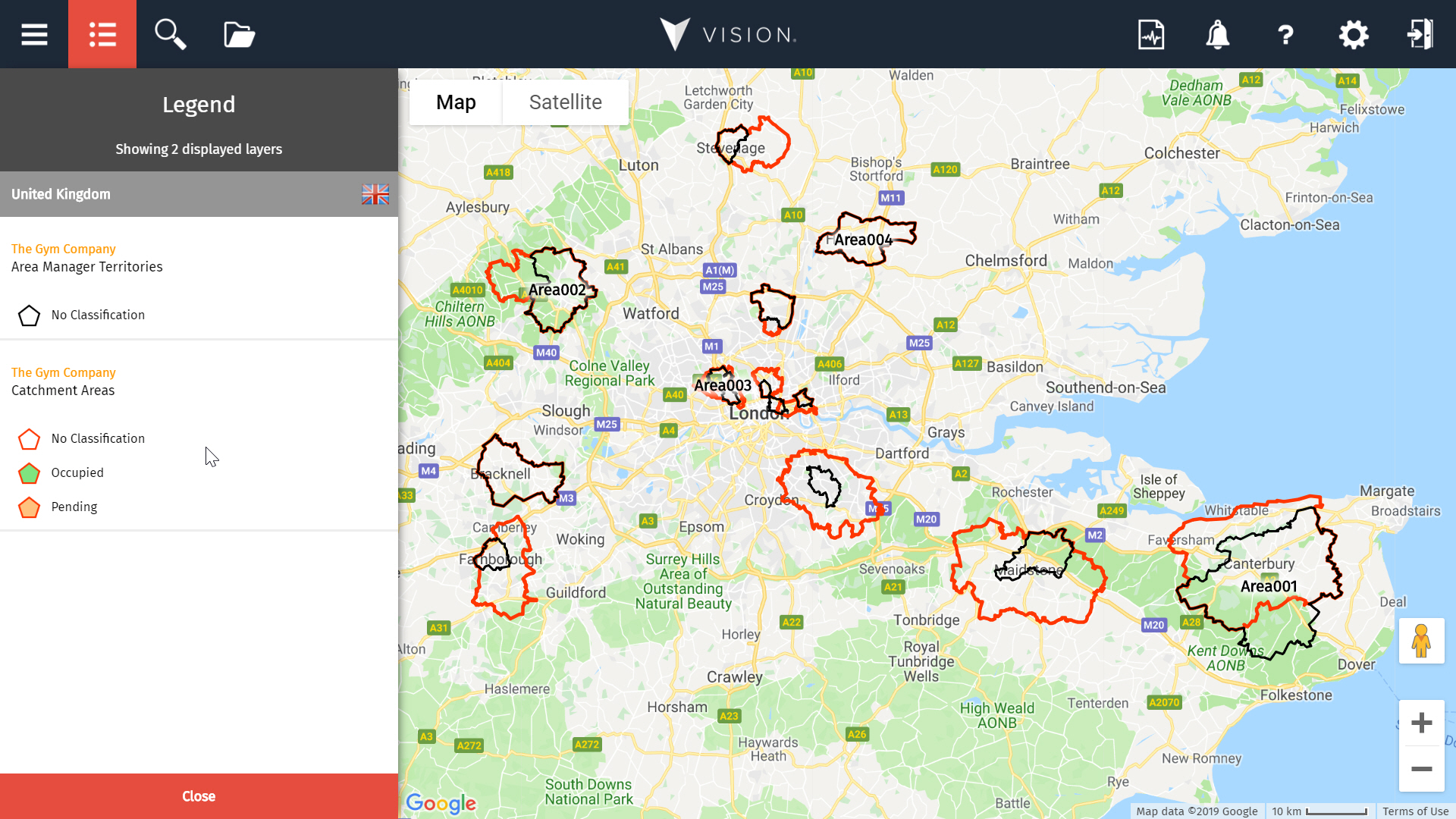 The legend has been updated in line with the new layer control. The legend simply shows all layers currently turned on, ordered by their order in the layer control and grouped by country.
Changes to Search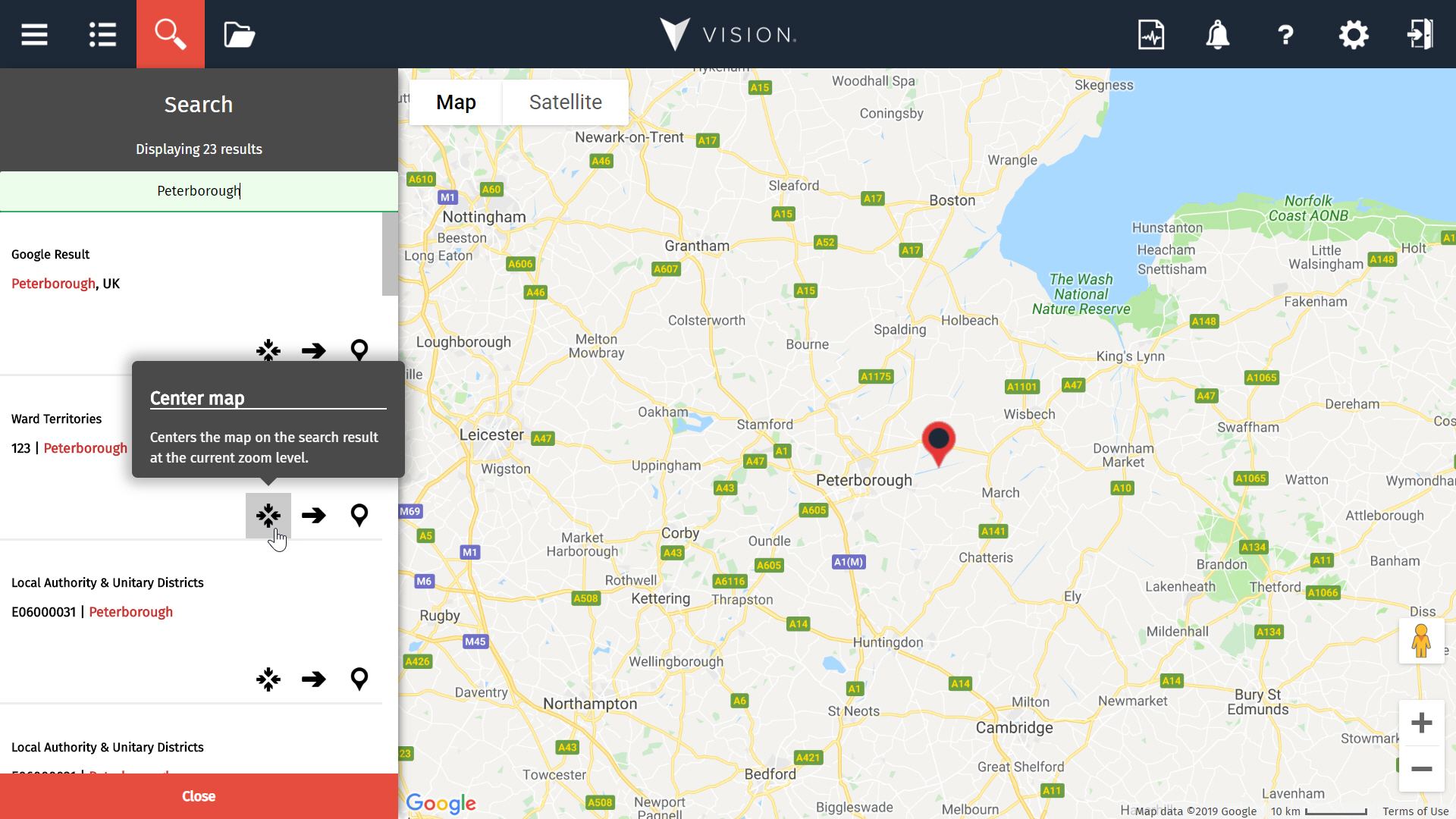 We've improved the search function to give a clearer response when a search yields no results. When search results are displayed, the new buttons – which come complete with clear tooltips – allow you to:
Centre the map on the search result at the current zoom level.
Centre the map and best-fit the zoom level on the search result.
Pin the result for the duration of the current session.
Changes to the Information Window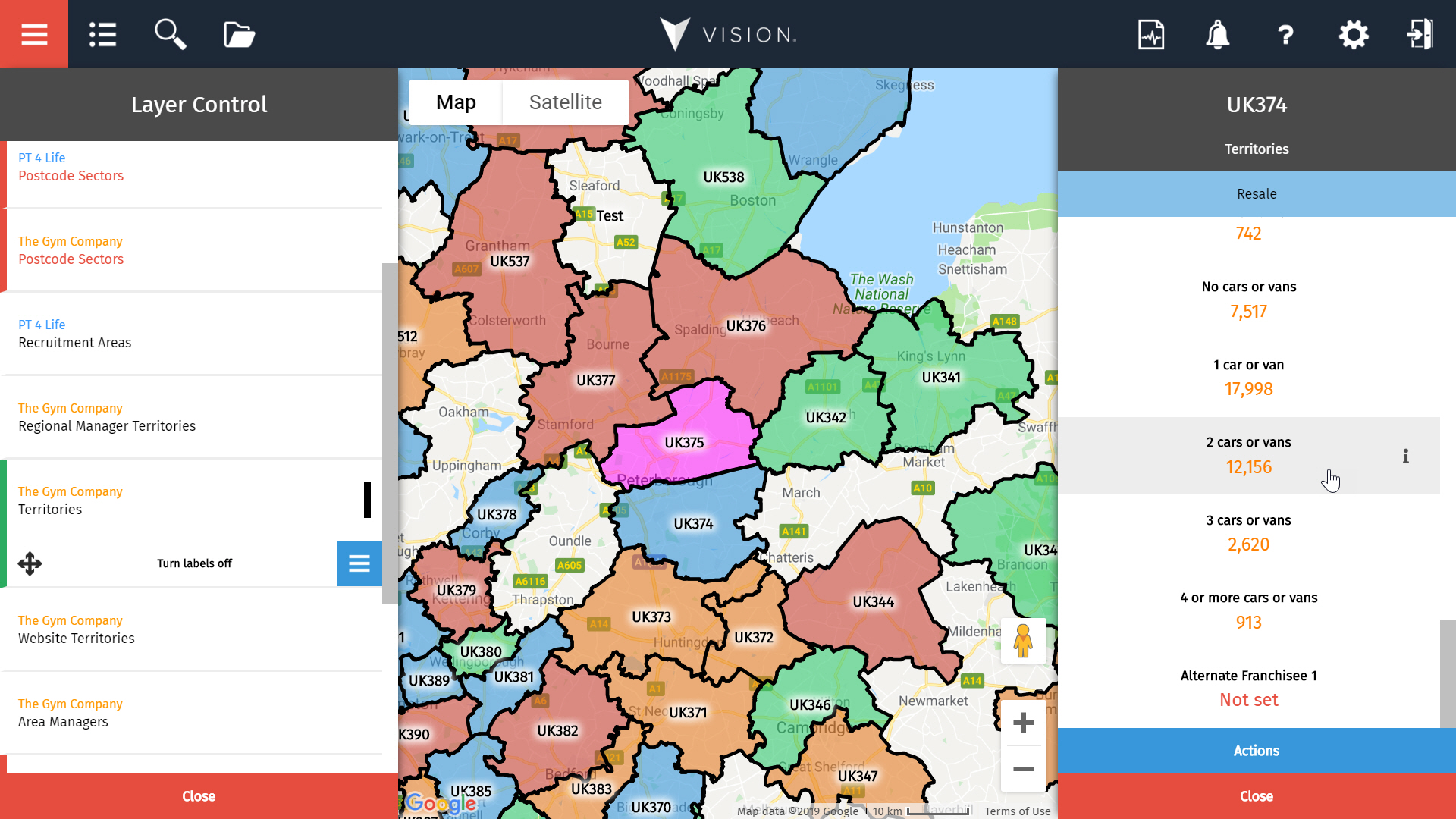 The information window has been redesigned to be more streamlined and display the data that's most-commonly required by our users with all other functions still easily accessible from the new action menu.
Updating information on a record is now easier and more intuitive with the ability to update multiple fields at the same time. The same applies when changing settings for Find Your Nearest.
Notes are clearer and easier to read in their new dedicated area.
We've implemented a new demographic report which is where you'll find Percentage of Base and Index values have moved to.
We've also implemented automatic URL/Email detection with custom field values and notes. If you enter a URL, you'll then be able to click on it to open the link in a new tab. Similarly, if you enter an email address, clicking it will open a new message in your default mail client.
We've improved the 'Copy area to' function so that you can now copy areas from layers which are view-only to you. This still requires that the user has editing permissions on the destination layer.
We've created a video highlighting the changes which you can view here.
The new Notifications window
The new notifications area in Vision will bring important information directly to you upon login. If you have any unread messages, you'll notice the new notifications icon flashing in the top bar.
You'll automatically receive notifications for anything that requires your immediate attention. This includes, but is not necessarily limited to:
Being added to or removed from an organisation.
Your subscription being frozen due to non-payment.
When you're close to or have reached your subscription limits.
Important incoming updates.
Creating/Editing Areas/Locations
The geography editor has been reworked into the new area and location editors, each with their own, more-streamlined processes for getting the task done better.
The new Area Editor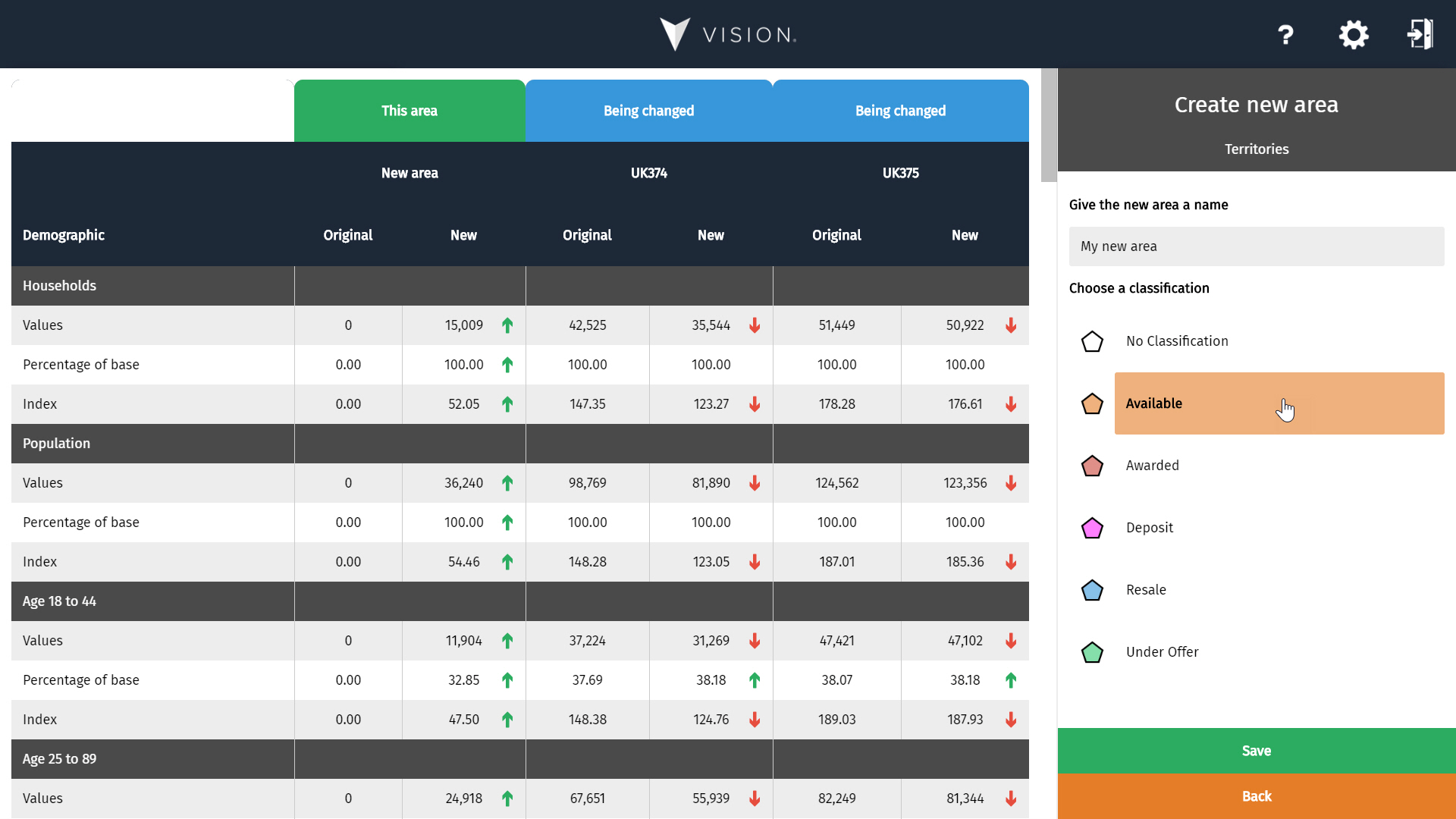 The new area editor works just as before. To create a new area, you start the process from the appropriate layer's action menu. And to edit an area, you start the process from the appropriate area's information window.
The polygon and radial selection tools have been more appropriately placed under a 'Tools' menu within the area editor, making them more obviously available to you.
We've also improved the demographic impact view, making it much more obvious when your changes affect other areas in the same layer.
The new Location Editor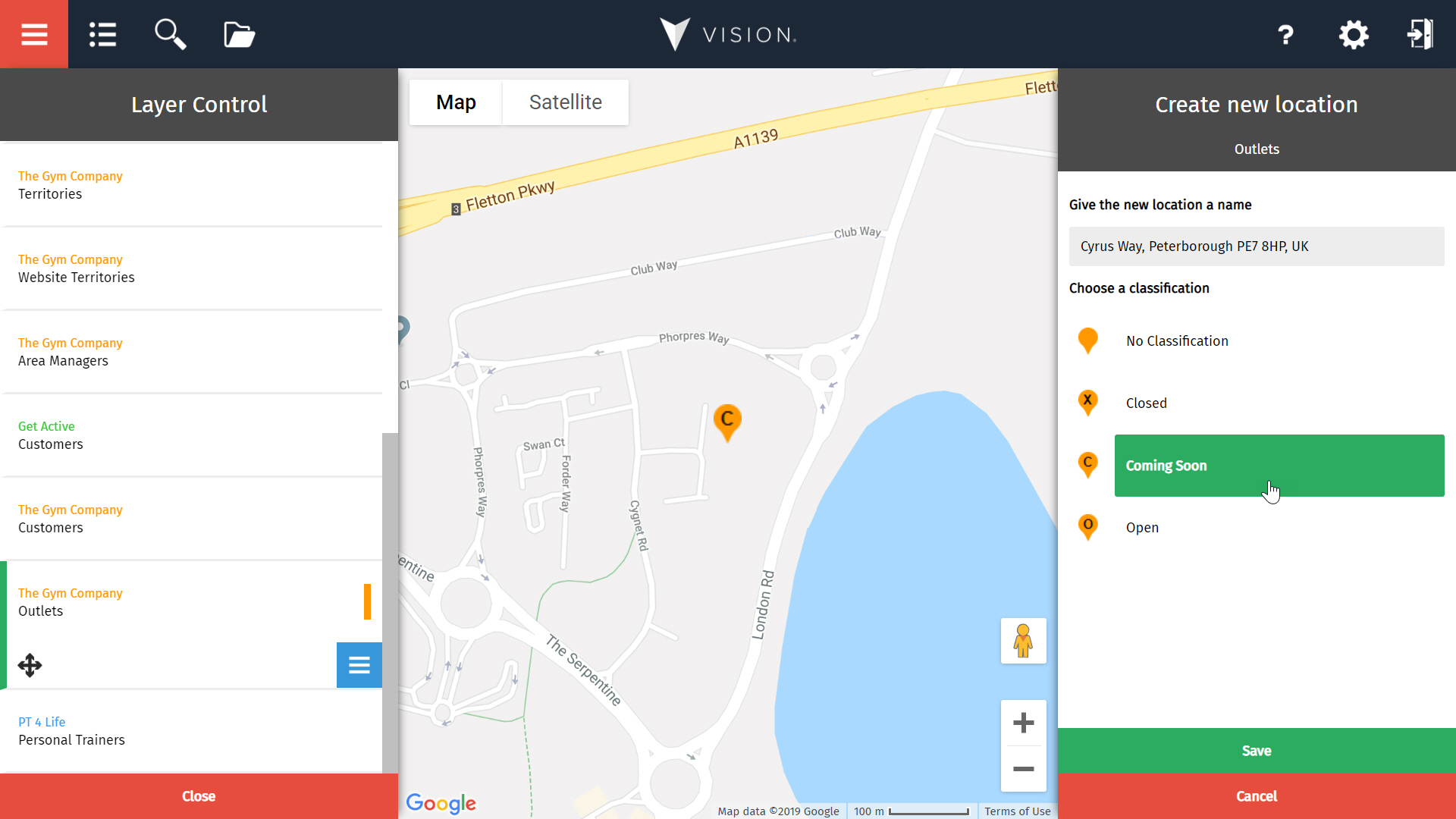 The new location editor is immensely simple to use. To create a new location, you start the process from the appropriate layer's action menu. This launches the search so you can find the right spot on the map for your new location and search results will display a new, dedicated button to create a location directly from them.
Improvements to Demographic Hierarchies
We've made improvements to our database structure for demographics to better represent more complex data hierarchies.
This will see us able to remove many of the demographic group totals which could become confusing when selecting which demographics to display on a layer and also improve the Percentage of Base values for a number of demographics.
Improvements & Bug Fixes
We fixed an issue where a newly-created area would sometimes not show on the map without refreshing the page if it was the first area within a new layer.
We fixed an issue where the inactivity timeout didn't correctly exit Vision when not receiving a response from the user.
We fixed an issue which prevented you from showing only one demographic on an area layer.