Update 17 for Vision launches Monday, 6th December 2021. Services will be down for approximately 2 hours while we complete the update, and of course, we'll notify all users when services are back online.
The maintenance window start times are as follows:
Time Zone
Start
LONDON (GMT)
8pm,

6th December

2021
NEW YORK (EST)
3pm,

6th December

2021
LOS ANGELES (PDT)
12pm,

6th December

2021
SYDNEY (AEST)
7am,

7th December

2021
Summary
Update 17 is designed to enhance your day-to-day use of Vision, with a focus on improvements to the existing features and overall system stability.
We've redesigned clustering, with professional, clearer icons that look good in both map and satellite views. There are improvements to creating and editing territories with special attention paid to custom/hand-drawn and radial areas. And, we've introduced new aggregation methods for demographics, meaning you can finally estimate the average or median values at territory and regional levels.
But it's not all bug fixes and feature improvements. We're also releasing the latest data for New Zealand which sees more geography options and tons of new demographics to meet your needs.
Clustering locations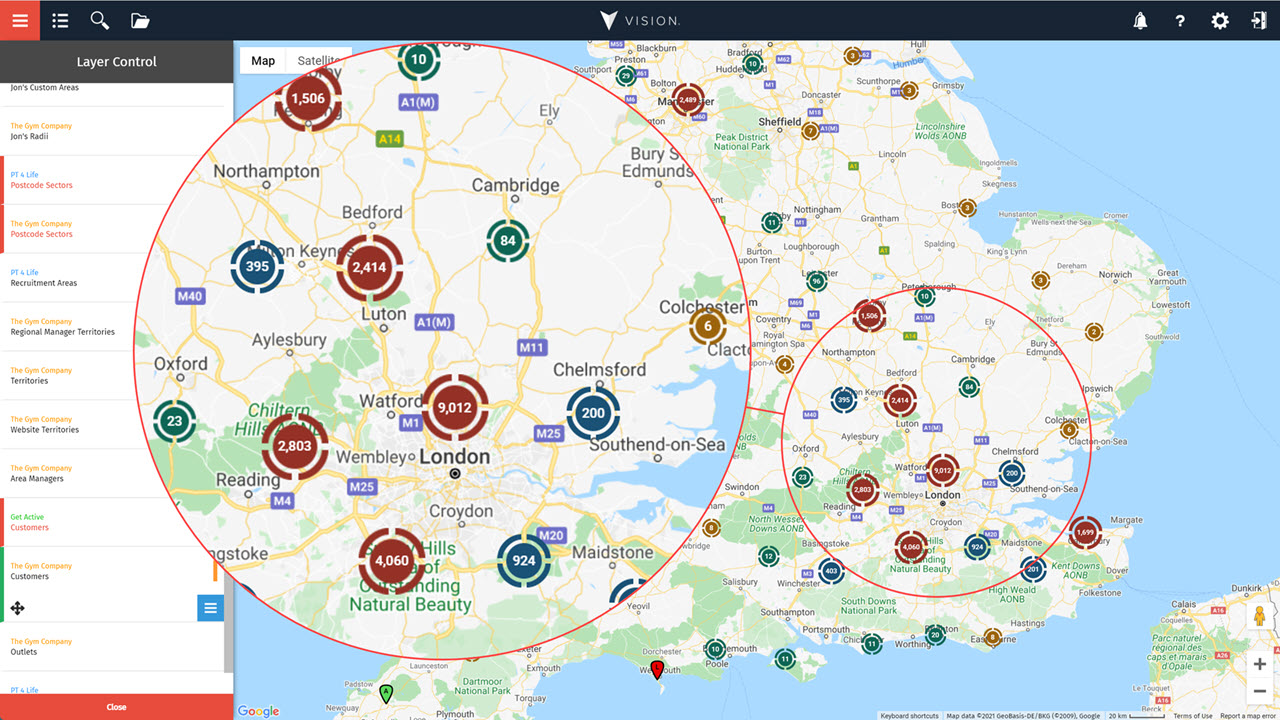 Location clusters have a stunning and professional new look with redesigned icons that perfectly contrast your chosen map type. Additionally, clicking on a cluster will now fit the map to all locations within it rather than doing nothing as it has until now.
Improvements to creating and editing areas
We've made many small improvements to improve everyday life for our users when creating and editing areas.
A clearer selected area boundary
We've made it much easier to distinguish the area you're building with an improved single border for the whole selected area (rather than selecting all of the areas that were making it up). It might seem small, but it has a big impact!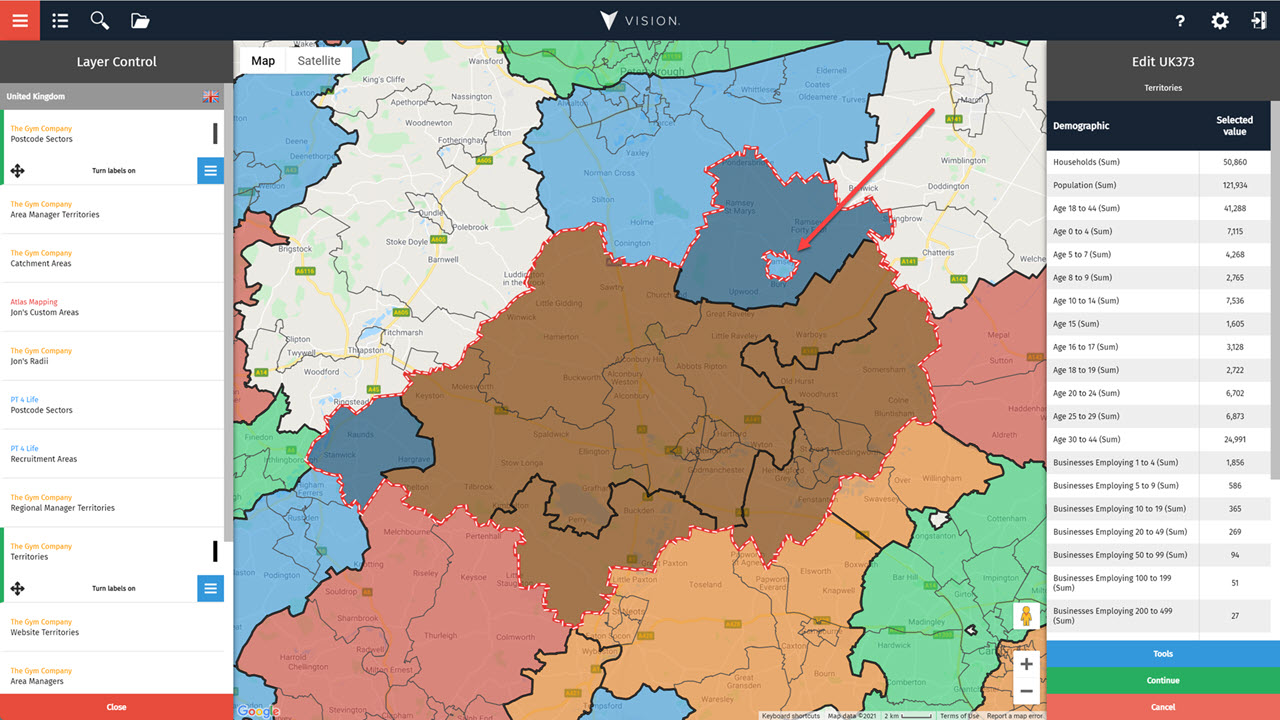 Notice how much easier you can spot the error compared with the below example from Update 16 (unless you like making territories with holes in them)!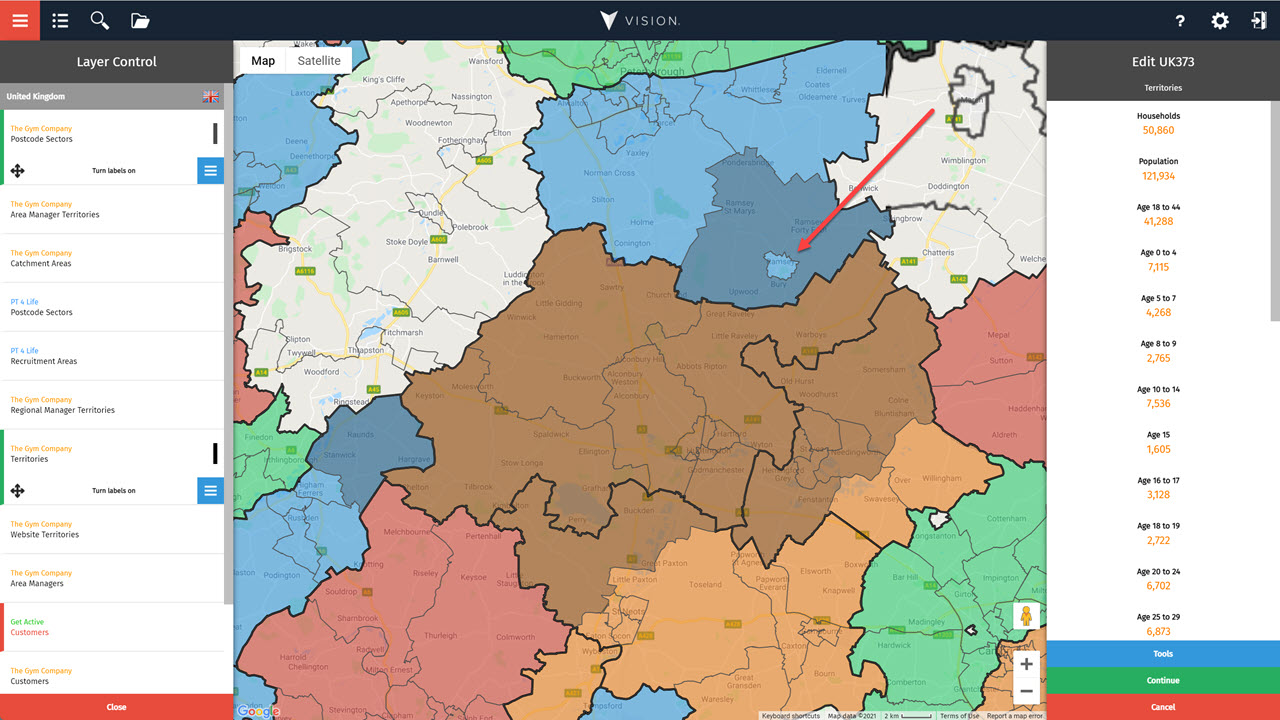 Improved radial areas
We've added a clear centre point and a red drag marker for editing the radial area manually. The drag marker automatically follows you around the map so it's always on hand and we've even added the radius distance as a label to the centre point which updates as you expand and contract the area.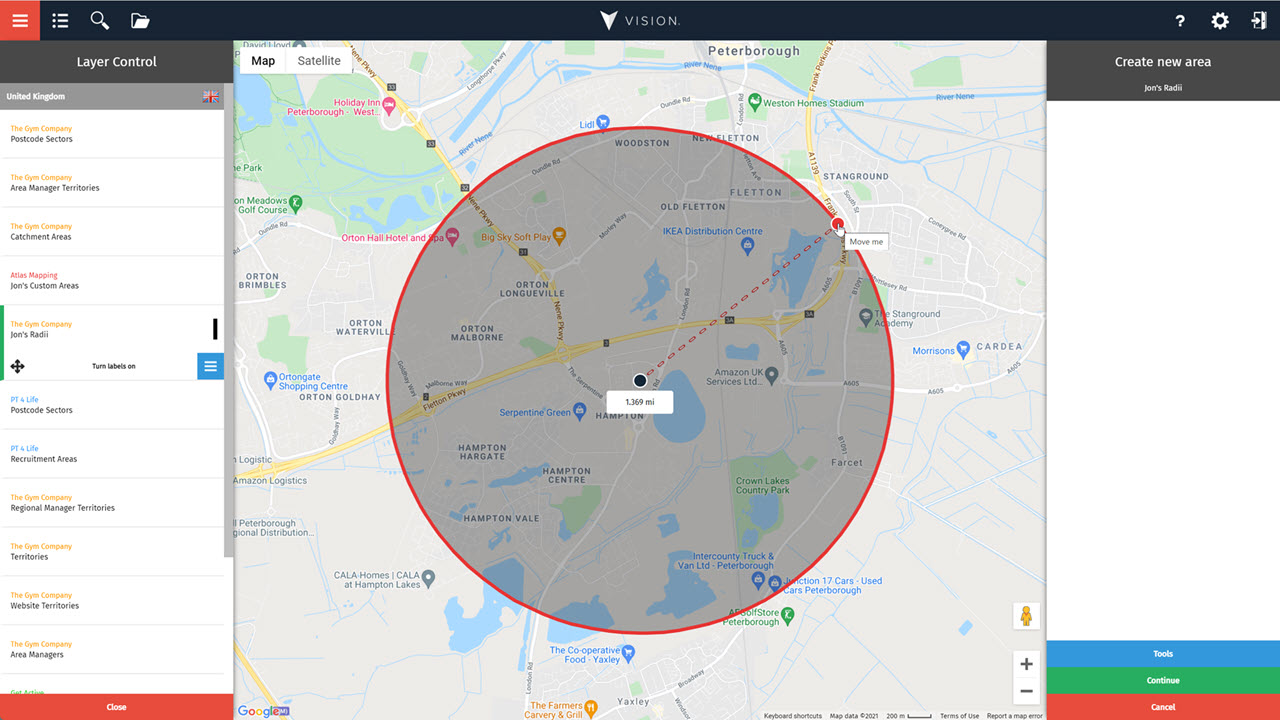 A better experience when building custom/hand-drawn areas
Some of our users work with incredibly complex custom areas made up of hundreds (or even thousands) of coordinates. When making changes, each adjustment (no matter how tiny) would require a recalculation of the demographic totals within the selected area and for these users, the process could be extremely painful.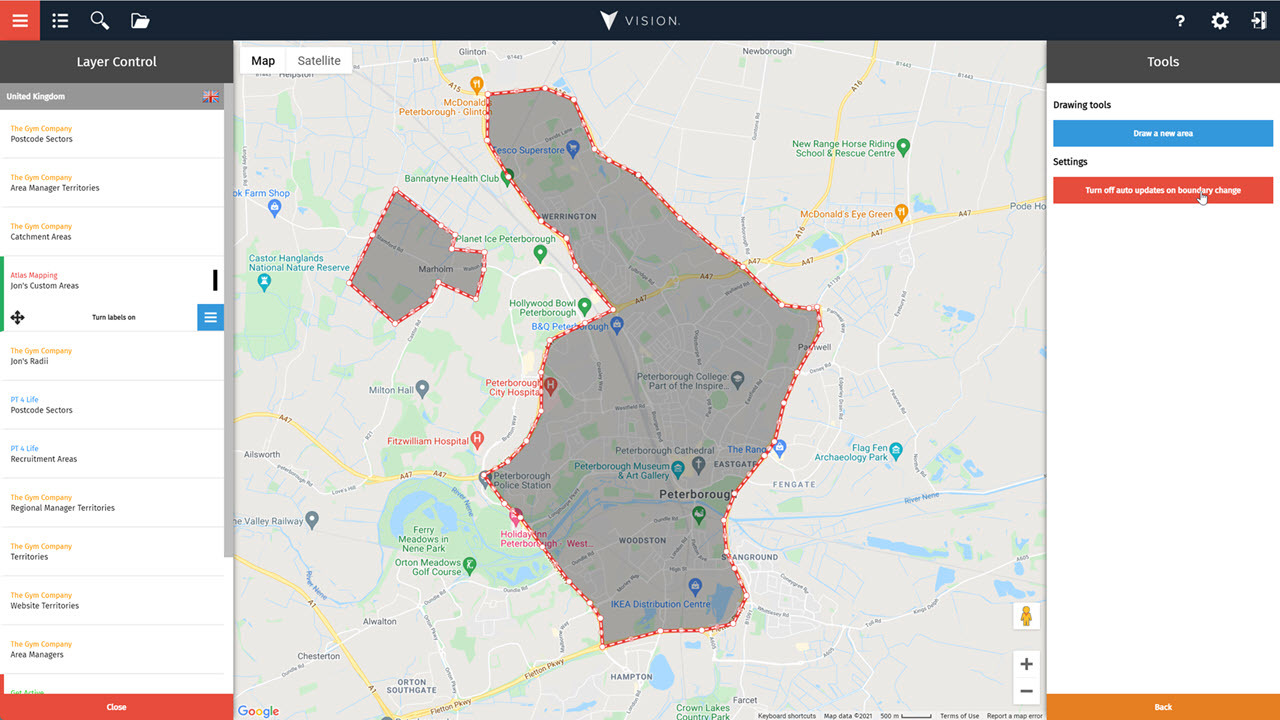 We thought long and hard about how we could best support those users, and so within the Tools menu, we've added a button to switch auto-updates of demographics on or off. We also, by default, turn auto-updates off when you're editing an area made up of more than 200 coordinates or when you haven't selected any demographics to be displayed on the layer. As the user, you retain full control of turning it on or off each time you make an edit.
New demographic aggregation methods
Sometimes, demographics aren't easily aggregable like population and households. In North America, many brands rely on Household Median Income as a key performance indicator for their territories. Some of the keen mathematicians among you may already see the problem - you can't sum median values!
Until now, demographics like Household Median Income have been marked as non-aggregable, meaning they couldn't be selected for territory layers. With Update 17, we're improving this by adding Average, Median, Min, and Max as new aggregation methods when selecting demographics on territory layers.
We know that taking the average of averages or median of medians isn't mathematically sound, and outlying values can badly skew the data, never-the-less this was a highly-requested feature and sometimes you've just got to work with what you can!
When viewing territories (including radial and custom/hand-drawn areas), we'll now show you the aggregation method is being used besides each one.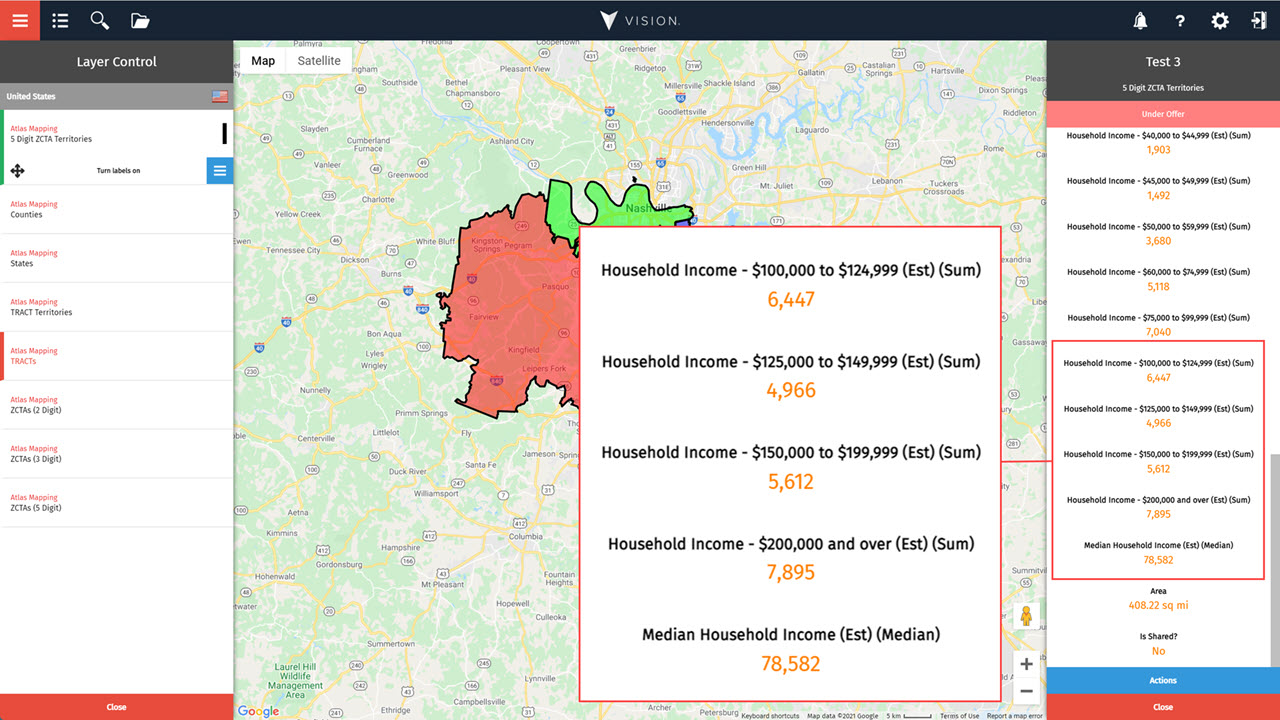 New Zealand
New Zealand is overdue an update with current demographics being from the 2013 census. Alongside Update 17, we'll be updating demographics and geography to the census 2018 values. We're also expanding the list of available demographics to give you even more choice than before!
Remember! We won't automatically upgrade you to the latest release but recommend that you take the time to do this as soon as you can!
More improvements (and some bug fixes)
We've made better use of the available space when displaying the legend by allowing two classifications to sit side-by-side.
Legend icons for area layers now reflect the alternative colour setting when switching to satellite mode.
When changing the classification for a location, the highlight colour now reflects the classification's settings.
Users can now create hand-drawn and radial areas without access to the specified base layer. After all, you don't need the layer to make the areas!
Added better feedback to tell the user why they can't create a new area or location. Rather than simply hiding the button, it's now disabled and will advise you of the reason.
Performance improvements when loading locations.
Prevented errors when drawing invalid polygon shapes.
Prevented errors when drawing radial areas with zero distance.
Fixed an issue that allowed Feature Pack 1 subscribers to create a hand-drawn or radial layer, but not to be able to use it (those features require Feature Pack 2)!
A final note on system errors and stability
Vision has grown considerably over the past couple of years and we are aware of some common errors and stability issues that have cropped up of late. We would like to reassure you, that while these are still relatively infrequent, we do take them seriously and are doing everything possible to reduce these issues. Update 17's sole focus was on alleviating these issues with a view to virtually eradicating them in 2022 - we simply made the best use of the opportunity to make some quality-of-life improvements along the way! As ever, we will continue to monitor for issues and make adjustments where necessary. We thank you all for your continued support and patience.